Manage your business finances conveniently and easily
Svoje financie máte vždy pod kontrolou
V kancelárii alebo na cestách máte svoje financie vždy na dosah vďaka webovej a mobilnej aplikácii.
Intuitívne a prehľadné zobrazenie
Vďaka prehľadnému zobrazeniu a intuitívnemu dizajnu bude vaša práca efektívnejšia.
Práca s veľkým množstvom transakcií
Či potrebujete spracovať 10 alebo 10 000 transakcií, zvládnete to s prehľadom.
Flexibilné nastavenie podpisových pravidiel
Podpísanie transakcie pripravené účtovníkom nie je problém. Možnosť notifikácie pre dôležité platby.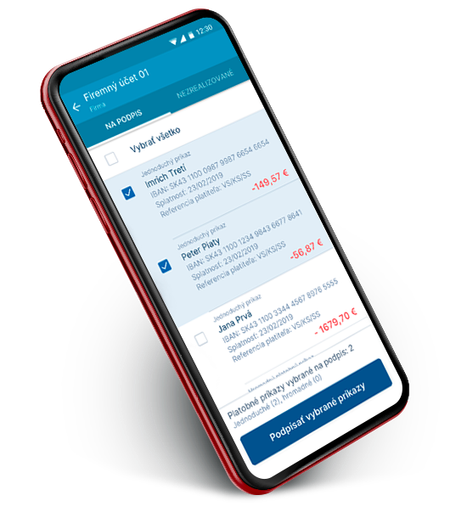 Download the mobile application Business24
you can manage your funds,
sign transactions prepared by your accountant,
push notifications for free,
pay using QR codes and much more.
Získajte detailné informácie o existujúcich či potenciálnych obchodných partneroch či udalostiach z ekonomiky priamo v elektronickom bankovníctve Business24
Media report and additional opportunities
Daily news about the most important events in the economy and in the society.
Company analysis
A unique service to help you reduce your business risk.

Are you using Internet Explorer?
It's time to switch to a safer browser. Internet Explorer is no longer supported, which means that you may not be able to access all functionality and you may encounter errors while using Business24. To avoid banking problems, we recommend you use a different, safer web browser.
Why does Business24 no longer support Internet Explorer?
Due to the fact that Microsoft has been phasing out the support for Internet Explorer browser and replacing it with the new Edge browser, we decided to drop the support for Internet Explorer in Business24. Security is of key importance when it comes to managing finances. Having a browser with phased out updates and technical support lowers its security.  It does not mean that Business24 will stop working in Explorer. However, some of its features may become unavailable. In order to be able to bank securely with Busienss24 and enjoy all the features it offers, please use a different browser (such as Microsoft Edge, Google Chrome, Mozilla Firefox, Opera, Safari).
Description of structures for payments import
Information centre
If you have any questions, feel fre to contact us