The first bank in Slovakia to do so, Slovenská sporiteľňa is ready to prepare an issue of social bonds for its subsidiary Social Financing SK. Its volume should reach a value of up to 10 million euros. A project of affordable rental housing for socially disadvantaged and vulnerable groups in Slovakia will be financed through the social bonds. 44 people have already found a new home thanks to the project of affordable rental housing by Slovenská sporiteľňa and its partners.
Rental housing will be more affordable
The unique solution is covered by the company Dostupný Domov, which was established as a joint project of the Slovenská sporiteľňa Foundation, Slovenská sporiteľňa and Slovak Investment Holding (SIH). Its goal is to find a long-term sustainable model of affordable rental housing for vulnerable and disadvantagesd groups. Dostupný Domov establishes partnerships with non-profit organizations and municipalities in all regions of Slovakia and in cooperation with them provides rental housing for disadvantaged and vulnerable populations at a lower price than market rents.
"Thanks to our project, we help people live with dignity, as housing is the basis for a stable life. With affordable housing, we also help people maintain their jobs and their standard of living, and integrate them into everyday life. Our rental flats are part of functioning apartment buildings, which means these vulnerable target groups are optimally integrated into the population, preventing the formation of ghettos," explains Rastislav Blažej, who covers the project on behalf of Slovenská sporiteľňa.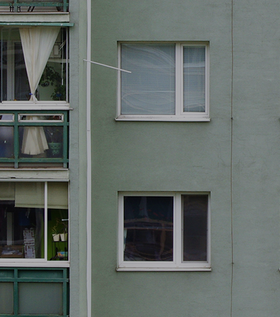 Dostupný Domov received the first financing from its shareholders* and has already acquired more than 40 flats throughout Slovakia from these sources. The issue of Social Financing SK's social bonds in the estimated value of 10 million euros and the expected maturity of 10 years is to lead to further growth of the project. The sale of the bonds will take place from 30 June, while the issue of the bonds is scheduled for 30 July 2021. The company Dostupný Domov has a long-term plan to own several hundred flats for disadvantaged and vulnerable groups of people.
"We have been dealing with responsible investment in our bank for a long time; after the recent issue of 'green' bonds, we are now also offering our clients the opportunity to invest in a socially responsible manner. They can thus invest their money in the first social bond in Slovakia with a positive impact on disadvantaged and vulnerable target groups. I believe that this offer will appeal to our clients and we will be able to obtain as much funding as possible for affordable rental housing in Slovakia," said Michal Orlovský, Head of Erste Private Banking in Slovakia.

Social Financing SK social bonds

The Bank will primarily offer the social bonds to Erste Private Banking clients and institutional investors; however, retail clients will also be able to purchase them via the George mobile app. The minimum investment amount is 1,000 euros; the maturity is 10 years. The investor will be paid a combined return of 0.15% per annum each year for the first 8 years and then a return of 1.40% per annum during the 9th and 10th years. The issuance of social bonds is part of the ESG strategy of Slovenská sporiteľňa, as a member of Erste Group.
* Shareholders of the company Dostupný Domov j.s.a. are Social Financing SK, s.r.o. (100% subsidiary of Slovenská sporiteľňa), Slovenská sporiteľňa Foundation and NDF II (100% subsidiary of SIH). SIH is a joint-stock company 100% owned by Slovenská záručná a rozvojová banka, a. s.