New in Business24
Listening to your needs we are constantly doing our best to better your experience with B24 web and B24 mobile app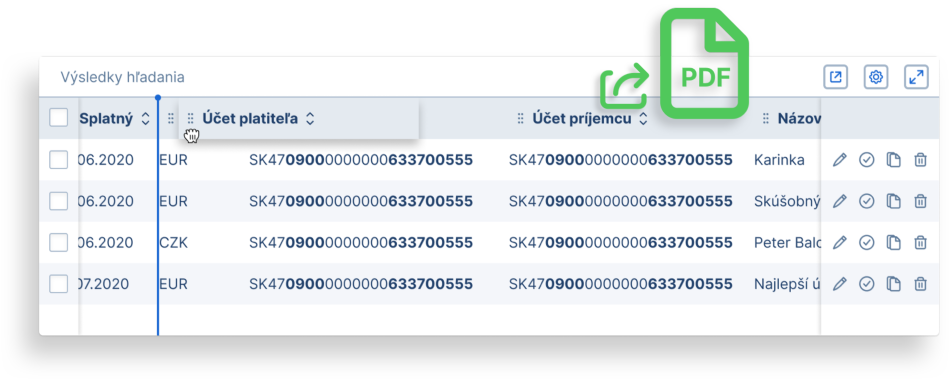 We are making significant changes to the visual of tables in Business24 – you will find clearer tables, colour coded transaction statuses, more prominent icons, more information in the selected report, easier column settings, the ability to export selected rows or columns, and improved full-page display mode.

We have, once again improved Business24, adding new functionalities for you:

we have added the data (name of beneficiary's account) to the PDF export of account movements,
bulk deletion of unrealised payments – we have added the functionality that you can mark multiple unrealised payments and delete the marked payments with one button,
we have extended the filter in the statements section, adding the last generated statement,
we have added Cash Services to the Accounts tab, by means of which you can request an above-limit withdrawal or foreign currency withdrawal,
we have made available the option of encrypting credit statements – you can set up the encryption of the credit statement, and also enter your own password for encryption,
we have expanded the option of sending documents for Trade Financing – you can now send documents by means of the electronic service by the documents – Trade Financing tab. To send this type of document, you need to have a signature rule contracted.

As a bank for life and business, we have decided to address the current situation and from 20 March 2021 we are opening the Administration and Multibanking features of Business24 for all clients using the service.

What can you do with the upgraded Administration function in your account?

Users – in this editable section, you can edit, block and delete users, reset a password, add a new user and assign additional security features (SMS, mToken, EOK) for signing in Business24.
Signing rules – an editable section where you can add new signing rules or delete existing ones.
Profile overview – a non-editable section with a list of set profiles.
Signing groups overview – a non-editable section with a list of defined signing groups.
Administration requests overview – a non-editable section with a list of requests for changes to be made in Administration.
Settings overview – this non-editable section can be used to export your Business24 settings or look at prepared export documents.

To use the Administration service effectively with your business account, you need to designate a user as an administrator with authorisation to make changes. For more information on contracting an administrator, please contact your relationship manager or the Client Centre.

The Multibanking service enables you to get an overview of balances and transactions on your accounts in other banks via the Business24 service. At present you can link with accounts in Česká spořitelna and ČSOB. You can also link a Tatra banka account to Business24 if you are the account owner. We are continuously working on ways to connect with other banks and when other banks become available, we will add these options to Multibanking.

Improvements in the payment form

we have removed the lock on the basic section so that you can easily edit the basic parameters at any time while you are entering payment details without having to unlock it,
removing the lock on the basic section cuts the number of clicks needed almost by half,
explanatory notes have been added to the fields in the form,
dynamic changes in the form enable you to enter new payments faster.

Upgraded form for manual batch payments

We have added:

a new clearer table with all the necessary information,
the possibility to customise the fields in the batch payment table. You can also hide fields that you do not want to display,
a payment added to the batch payment will appear first in the list.

Design update

At the end of September, the overall visual of B24 will change significantly – there will be clearer tables, colour-coded sections, more distinctive icons and an overall more attractive look to B24.

Table paging

Customised paging – on each table we have added the option of selecting the number of items on a page.

Full-page mode close

We added the option to close the full-page mode with the Esc key – if you prefer keyboard control to using a mouse; it just makes your work easier.

Improved notifications

We improved Growl/alert messages and extended their display – you will get more time to read the message and, if necessary, respond to it.

Proof of payment as PDF

You no longer need to contact us for requesting proof of payment. You yourself can create a PDF export on an executed payment, and you can immediately send the document to your business partner.

Extended history of account movements

We extended the history of account movements – you can filter account movements from 1 January 2019, and then export them (this was previously available only for the past 12 months).

Improved file import

Files that you import into B24 will no longer be saved under the title "parsing report" but will keep the same name you saved them under on your computer.

Automatic log off notification

We improved the notification for automatic log off in the case of long inactivity – we will notify you with highlighted text, and one minute before log-off, also by a sound and visual alert.

Clever bank statements search

We removed the pre-set date in the filter when searching bank statements – this way you can get to a particular statement more easily and with less clicking.

Payment copy

You can now easily copy a payment from account movements, and in one click get to a prefilled payment form, which you can then adapt and sign.
In the mobile app you can:

view the PIN code for your card. The PIN code can be seen only by the debit or charge card holder,
sign payments more simply with the mToken. B24 redirects you directly to mToken, and back when signing, making signing quicker and more convenient,
request an above-limit withdrawal, or foreign currency withdrawal, similarly as in the web version,
display also in dark mode on all platforms (iOS, Android, Huawei),
activate your card,
use push notifications for cards and card reservations, standing orders, and ATM withdrawals.

Standing orders

You can enter a new standing order, or change or delete an existing one.

Debit and charge cards

You can view card transactions and block your card. We are currently working on the change of limits, activation of new card and displaying of PIN code in the application.

Payments with future value date

You can now view entered payments with future value date in the application.

Requests – these are the most frequent client requests for application services

For example: loan application, request for card activation, request to add accounts maintained in other institution.

PUSH notifications

Push notifications in the B24 mobile app will automatically notify you of unexecuted and pending payments.

New features

Together with other minor improvements, the app will also display loan accounts, allow you to export account movements, and send the export directly from the app.